Pork Loin with Molé de Olla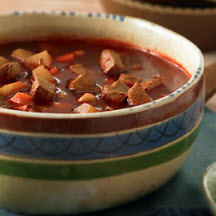 Recipe provided courtesy of National Pork Board.
Recipe Ingredients:
2 pounds pork loin, in 1/2-inch cubes
4 quarts water
10 guajillo chile peppers, stemmed, seeded
1 teaspoon fresh thyme
1 teaspoon fresh basil
1 teaspoon fresh marjoram
3 garlic cloves
3 cups chicken broth
1 teaspoon salt
1 teaspoon ground cumin
1 cup 1/2-inch cubed potatoes
1 cup 1/2-inch cubed carrots
1 cup 1/2-inch cubed chayotes
1 cup canned garbanzos, drained and rinsed
3 cups water
1/4 cup chopped fresh cilantro, for garnish
1/2 cup finely diced onion, for garnish
Cooking Directions:
In a medium saucepan, boil pork in 4-quart of water for 10 minutes, skimming foam if necessary.
Meanwhile, in a blender, process the chile peppers with the thyme, basil, marjoram, garlic, chicken broth, salt and

cumin until smooth. Add to the saucepan and boil another 10 minutes. Reduce heat and simmer an additional 15

minutes.
Serve in soup bowls. Garnish with cilantro and diced onion.
Makes 20 servings.
Nutritional Information Per Serving (1/20 of recipe; 1 cup): Calories: 309; Total Fat: 7g; Saturated Fat: 2g; Cholesterol: 90mg; Total Carbs: 21g; Fiber: 5g; Protein: 38g; Sodium: 929mg.
Recipe and photograph provided courtesy of National Pork Board.