Roasted Tomato and Chile Soup with Gruyère Croutons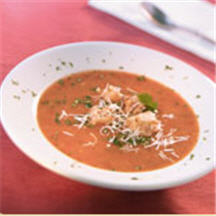 This superb recipe for roasted tomato and jalapeño chile soup with Gruyère croutons was created by Chef Ben Berryhill.
Recipe Ingredients:
Soup Base:
1 red bell pepper, stemmed and seeded
3 jalapeño chiles, preferably red, stemmed and seeded
1/2 large yellow onion
1 carrot, trimmed and peeled
3 garlic cloves, peeled
10 ripe tomatoes, stemmed and halved or 12 to 14 whole canned tomatoes, preferably roasted (two 28-ounce cans plus one 15-ounce can)
1/2 cup cilantro, stemmed plus 2 tablespoons for garnish, minced
2 tablespoons olive oil
1 quart (4 cups) chicken broth, homemade or prepared
Juice of 1/2 lime
Sea salt to taste
1/2 tablespoon pure maple syrup
Gruyère Croutons:
2 garlic cloves, peeled
1/2 tablespoon oregano, toasted*
18 (1 x 1-inch) bread cubes, cut from a 9-inch round country-style loaf (NOT sourdough)
1 1/2 tablespoons olive oil
2 ounces (1/4 cup) melted butter
1 1/4 cup (5 ounces) Wisconsin Gruyère cheese, grated - divided use
Cooking Directions:
For Soup Base: Preheat oven to 375ºF (190ºC).
Roughly chop the red bell peppers, jalapeños, onions, carrots and garlic. Combine with fresh tomatoes and 1/2 cup cilantro leaves. If using canned tomatoes, set tomatoes aside for later.
Coat vegetable mixture with olive oil and roast in a jelly roll baking pan until caramelized and tender, about 30 minutes. Cool. Remove tomato skins.
If using canned tomatoes, dry well, halve and mix with vegetables.
Purée vegetables in batches in a food processor, leaving some texture. Add purée to chicken broth. Heat to a boil and lower heat; simmer for 1/2 hour.
Season with lime juice, salt and maple syrup.
For Croutons: Preheat oven to 250ºF (120ºC)..
Finely mince garlic and toasted oregano.
Combine bread cubes, garlic and oregano with olive oil and melted butter. Toss until evenly coated.
Slowly toast in the oven until crusty and crunchy, 30 minutes. Remove from oven, briefly cool and toss warm croutons with 1 cup of Gruyère cheese, pressing cheese into crouton sides. Cool.
Serve hot soup with 3-cheese croutons in each of 6 large bowls. Sprinkle the reserved cilantro and Gruyère over the top.
Makes 6 servings.
*To toast oregano: Heat a small, heavy skillet until hot. Add oregano and stir constantly with wooden spoon until aromatic. Be careful not to burn.
Recipe and photograph provided courtesy of Wisconsin Milk Marketing Board, Inc.