Southwestern Pork Stew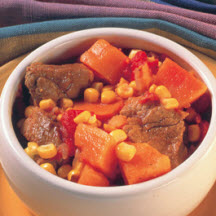 Pork, yams, and corn make this an eye-appealing, easy one dish meal that will be requested often.
Recipe Ingredients:
1 3/4 pounds pork tenderloin, trimmed of fat and cut into 1-inch pieces
Salt and ground black pepper to taste
1/4 cup all-purpose flour
1 cup chopped red onion
2 cups fat-free chicken broth, more if needed to thin stew
1 (10-ounce) can chopped tomatoes and green chiles
1 1/4 pounds sweet potatoes (yams)*, peeled and cut into 1-inch cubes
1 teaspoon chili powder
1/4 teaspoon ground cumin
1 (4-ounce) can diced green chiles, drained
1 (16-ounce) package frozen corn
Cooking Directions:
Season pork with salt and pepper and toss with flour to coat.
In a large pot coated with nonstick cooking spray, brown pork over medium heat about 5 to 7 minutes.
Add onions and cook until tender.
Add broth, tomatoes and green chiles, sweet potatoes*, chili powder, cumin, diced green chiles and corn. Bring mixture to a boil, lower heat and simmer until potatoes are tender and pork is done, approximately 45 minutes. If stew gets too thick, add more chicken broth. Season to taste.
Makes 8 servings.
*Can substitute with 1 (29-ounce) can yams. If using canned yams, cut in small chunks and stir in at the end of cooking.
Created by Louisiana Sweet Potato Commission spokesperson, Holly Clegg.
Recipe and photograph provided courtesy of Louisiana Sweet Potato Commission.