Tortellini and Italian Sausage Soup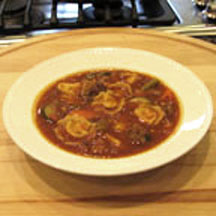 Don't let the long list of ingredients discourage you, the extra effort is well worth the end result—a flavorful and hearty soup the whole family will enjoy.
Recipe Ingredients:
1/2 teaspoon anise seeds, crushed
2 teaspoons dried basil leaves
1 teaspoon dried oregano leaves
1 large bay leaf
1 pound bulk sweet or spicy Italian sausage*
2 tablespoons extra virgin olive oil
1 medium onion, chopped
6 cloves garlic, minced
1 (6-ounce) can tomato paste
2 (14-ounce) cans diced tomatoes in juice, undrained
4 cups water (more if needed)
2 teaspoons kosher or sea salt
1/4 teaspoon freshly ground black pepper
1 tablespoon brown sugar, firmly packed
2 tablespoons lemon juice
1 tablespoon Worcestershire sauce
1 medium bell pepper, chopped
2 carrots, pared and thinly sliced
1 (15-ounce) can cannellini (white kidney beans), drained and rinsed
2 medium zucchini, chopped
1 (12-ounce) package cheese tortellini, cooked according to directions
1/2 cup freshly grated Parmesan cheese for sprinkling
Cooking Directions:
In a small bowl mix the anise seeds, basil leaves, oregano leaves and bay leaf; set aside.
In large cooking pot brown sausage and drain. Move the cooked sausage over to one side of the pot; add the olive oil and over medium heat, add the spice mixture and cook for about 15 seconds, stirring constantly. Mix in with the sausage. Add the onion and garlic and cook until onion has softened.
Add the tomato paste and continue cooking for 2 minutes more, stirring constantly. Add the tomatoes, water, salt, pepper, brown sugar, lemon juice and Worcestershire sauce. Bring to a boil; add the bell pepper and carrots and cook until carrots are tender.
Add the cannellini and zucchini and cook for another 10 minutes, or until zucchini is crisp-tender. Remove soup from heat and stir in the cooked cheese tortellini.
Top each serving with 1 tablespoon Parmesan cheese, if desired.
Makes 8 servings.
*Or use link sausages and remove from casings.
Nutritional Information Per Serving (1/8 of recipe; includes 1 tablespoon Parmesan cheese per serving.): 279.1 calories; 28% calories from fat; 9.0g total fat; 18.5mg cholesterol; 1166.7mg sodium; 1207.0mg potassium; 34.5g carbohydrates; 7.5g fiber; 9.3g sugar; 27.0g net carbs; 18.0g protein.
Recipe and photograph by Hope Cantil; copyright © 1999; property of CooksRecipes.com. See Terms of Use.