Blackened Turkey Strips on Pasta with Cajun Sauce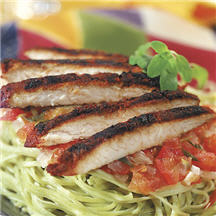 Turkey tenderloins are seasoned with Cajun spices and blackened in hot iron skillet, sliced and served atop a bed of pasta drizzled with Cajun sauce.
Recipe Ingredients:
1 package Honeysuckle White® Turkey Breast Tenderloins
1 1/2 tablespoons paprika
1 teaspoon garlic powder
1 teaspoon onion powder
1/8 teaspoon freshly ground black pepper
3 tablespoons white onion, minced
3 tablespoons bell pepper, minced
3 tablespoons celery, minced
2 cloves garlic, minced
2 cups chicken broth
1 tomato, diced
1 tablespoon fresh herbs, chopped (oregano, basil, tarragon or marjoram)
1 (8-ounce) package pasta (angel hair, linguine or penne)
Nonstick cooking spray
Cooking Directions:
To make Cajun spice: Mix paprika, garlic powder, onion powder and pepper. Set aside. Reserve 1/4 teaspoon for Cajun sauce.
Cut each turkey tenderloin in half horizontally to make thinner pieces of meat. Place tenderloins between two pieces of wax paper and pound with meat mallet to flatten. Moisten the meat with water and rub with Cajun spice.
Spray a very hot cast-iron pan with nonstick cooking spray. Fry turkey tenderloins for approximately 4 minutes on each side or until no longer pink in the center.
Remove from pan and slice into thin strips; set aside.
Meanwhile, cook pasta according to package directions; drain.
To make Cajun sauce: Spray a small saucepan with vegetable spray; sauté onion, bell pepper, celery and garlic until vegetables are softened. Add broth, tomato, fresh herbs and reserved Cajun spice (1/4 teaspoon). Simmer for 8 minutes.
Arrange pasta on a platter.
Lay turkey on pasta and drizzle with sauce.
Makes 4 servings.
Recipe and photograph provided courtesy of Honeysuckle White, a division of Cargill, Incorporated. Used with permission.