Dijon Turkey Tenderloin Steaks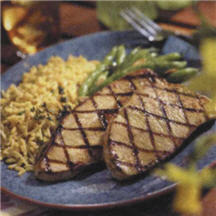 Turkey breast tenderloins marinate in a savory Dijon mustard marinade for a short while and then grilled to perfection.
Recipe Ingredients:
Marinade:
1/4 cup Dijon mustard
1/8 cup soy sauce
1 tablespoon olive oil
1/2 teaspoon ginger, ground
1/2 teaspoon garlic powder
1 package Honeysuckle White® Breast Tenderloins
Cooking Directions:
Combine marinade ingredients in a large heavy-duty, zip-top bag. Add turkey. Seal bag and shake until turkey is well coated. Marinate in refrigerator for a minimum of 30 minutes up to 4 hours, turning bag occasionally.
Coat grill rack with cooking spray.
Remove turkey from marinade and place on rack. Grill covered for 5 to 7 minutes on each side or until turkey has reached an internal temperature of 170°F (80°).
Discard any unused marinade.
Makes 5 servings.
Nutritional Information Per Serving (1/5 of recipe): 179 Calories from fat 41 Total fat: 5 g Saturated fat: 1 g Cholesterol: 75 mg Sodium: 888 mg Carbohydrate: 2 g Fiber Carbs: 0 g Sugar Carbs: 1 g Protein: 31 g.
Recipe provided courtesy of Honeysuckle White, a division of Cargill, Incorporated. Used with permission.