Grilled Turkey Cutlets with Chipotle Molé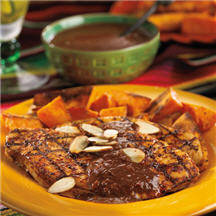 Grilled chipotle-dusted turkey cutlets served with roasted sweet potatoes and an incredible sweet and smoky chipotle mole with blended undertones of chocolate, toasted almond and dried plum.
Recipe Ingredients:
Roasted Sweet Potatoes:
1 pound sweet potatoes
1 tablespoon olive oil
Salt and black pepper
Chipotle Molé:
1 cup low-sodium chicken broth
1/4 cup pitted dried plums
3 canned chipotles in adobo, rinsed and seeded
1/3 cup toasted sliced almonds
1 ounce bittersweet chocolate
Turkey:
1 package (about 1 1/2 pounds) Honeysuckle White® Turkey Breast Cutlets
1 tablespoon chipotle or chili powder
Cooking Directions:
Preheat oven to 400°F (205°C).
For Roasted Sweet Potatoes: Cut sweet potatoes lengthwise into wedges; toss with olive oil and season with salt and pepper. Spread sweet potatoes on a roasting pan in one layer; roast about 30 minutes or until tender.
For Chipotle Molé: In saucepan, bring broth and dried plums to a boil. Remove from heat, cover and let sit 5 minutes. In blender, purée dried plums, broth, chipotles and 2 tablespoons of the almonds. Return mixture to saucepan; add chocolate and stir over low heat until chocolate is melted. Season with salt. Keep warm.
For Turkey: Season turkey with chipotle powder and salt. Grill over gas or charcoal about 4 minutes on each side or until cooked through.
To Serve: Arrange turkey and sweet potatoes on platter or individual plates. Spoon mole over turkey and sprinkle with remaining almonds.
Makes 4 servings.
Recipe and photograph provided courtesy of Honeysuckle White, a division of Cargill, Incorporated. Used with permission.