Honey Grilled Turkey Tenders with Peanut Sauce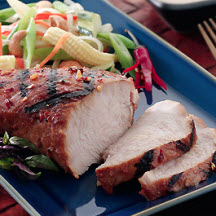 Recipe kindly provided by Chef Guy DeSerio of The Machine Shed in Des Moines, Iowa.
Recipe Ingredients:
Peanut Sauce:
1 1/2 cups turkey broth
1 cup smooth peanut butter
2 teaspoons sesame oil
2 teaspoons soy sauce
2 teaspoons freshly squeezed lemon juice
1/4 teaspoon ground ginger
1/4 teaspoon freshly ground black pepper
2 green onions, finely chopped
2 cloves garlic, minced
Turkey Marinade:
1/2 cup soy sauce
1/4 cup rice vinegar
2 tablespoons honey
2 teaspoons ground coriander
1/2 teaspoon freshly ground black pepper
1/2 teaspoon crushed red pepper flakes
2 cloves garlic, minced
2 pounds turkey tenders, boneless, skinless, and cut into 8-ounce portions
Cooking Directions:
For Peanut Sauce: Combine broth and peanut butter; whisk to blend. Stir in remaining ingredients and mix well. Cover and let mixture stand for, at least, 1 hour for flavors to blend. (May be stored in refrigerator for up to 2 days). Serve peanut sauce with turkey tenders.
For Turkey Marinade: Combine all marinade ingredients in a bowl or in a sealable plastic bag. Add turkey tenders and marinate, refrigerated for several hours.
To Grill: Remove tenders from marinade and discard marinade. Allow tenders to slightly drain.
Grill turkey tenders, by the indirect grilling method, until cooked through to an internal temperature of 170°F (76.6°C), turning the tenders so all sides receive grill marks.
Makes 4 servings.
Nutritional Information Per Serving (1/4 of recipe): Calories: 660; Calories From Fat: 330; Total Fat: 36g; Saturated Fat: 7g; Cholesterol: 150mg; Total Carbs: 15g; Fiber: 4g; Sugar: 6g; Protein: 71g; Sodium: 1000mg.
Recipe and photograph courtesy of the National Turkey Federation.