Maple-Glazed Turkey Breast with
Orange-Parsley Stuffing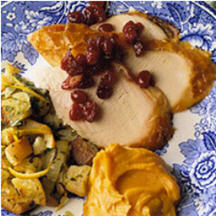 Add kumquats, cranberries, and sage sprigs to the serving platter to dress up this much-loved classic.
Recipe Ingredients:
Glaze:
1/3 cup maple syrup
3 tablespoons Dijon-style mustard
1 tablespoon margarine or butter
2 teaspoons Worcestershire sauce
Turkey:
1 (4 to 5-pound) whole turkey breast with bone
Stuffing:
10 cups dry bread cubes
1 cup snipped parsley
1/2 cup chopped onion
2 teaspoons dried marjoram, crushed
4 teaspoons finely shredded orange peel
1 teaspoon dried thyme, crushed
2 cloves garlic, minced
1/2 teaspoon salt
1/4 teaspoon ground black pepper
1/4 cup mgargarine or butter, melted
2 large, slightly beaten eggs
1/2 cup water
1/3 cup orange juice
Cooking Directions:
For Glaze: In a small saucepan combine maple syrup, mustard, butter and Worcestershire sauce. Cook and stir over medium heat until margarine or butter melts. Set aside.
For Turkey: Rinse turkey; pat dry. Place turkey, skin side up, in a shallow roasting pan. Bake, uncovered, in a 325°F (160°C) oven for 2 to 2 1/2 hours or until a meat thermometer inserted in thickest part registers 170°F (80°C). Brush with glaze during the last 30 minutes of roasting.
For Stuffing: In a large mixing bowl combine dry bread cubes, parsley, onion, orange peel, marjoram, thyme, garlic, salt, and pepper. Mix well. In a small mixing bowl stir together the melted butter, eggs, water, and orange juice. Toss with bread mixture; if necessary, add more water for desired moistness. Spoon stuffing into a 3-quart casserole. Bake stuffing, uncovered, alongside turkey during the last 50 minutes of roasting or until stuffing is heated through.
Makes 8 to 10 servings.
Make-ahead tip: Prepare stuffing up to 8 hours before baking. Cover and chill. Allow 1 to 1 1/4 hours to bake chilled stuffing.
Nutritional Information Per Serving (1/8 of recipe): calories: 576, total fat: 27g, saturated fat: 6g, cholesterol: 145mg, sodium: 782mg, carbohydrate: 40g, protein: 41g.
Recipe and photograph provided by Better Homes and Gardens - BHG.com a member of the Home and Family Network for the best of cooking, gardening, decorating and more. © 2003 Meredith Corporation. All Rights Reserved.