Mediterranean Turkey Medley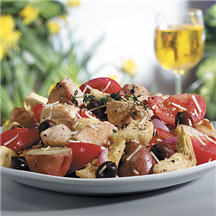 Garlic-seasoned roasted red potatoes and onion are tossed with sautéed chunks of turkey breast, artichoke hearts, kalamata olives, garlic and fresh tomatoes, and served with a sprinkling of freshly grated Parmesan cheese.
Recipe Ingredients:
1 package Honeysuckle White® Turkey Breast Cutlets, cut into 1-inch pieces
1 red onion, cut into 1-inch pieces
3/4 pound small red potatoes, cut in half
2 tablespoons extra virgin olive oil - divided use
1/2 teaspoon salt
9 cloves garlic, minced - divided use
1/2 teaspoon black pepper
1/2 cup artichoke hearts, drained, cut in half
1/4 cup kalamata olives, pitted
1/2 teaspoon dried thyme
2 medium tomatoes, quartered
1/4 cup grated Parmesan cheese
Cooking Directions:
Preheat oven to 400°F (205°C).
In a large mixing bowl, combine red onion, red potatoes, 1 tablespoon oil, 1/2 teaspoon salt and 3/4 of the minced garlic; toss well to coat vegetables.
Place on greased cookie sheet.
Bake for 30 minutes, until vegetables are softened.
Heat remaining oil in a medium nonstick skillet over medium-high heat.
Add turkey, remaining salt and pepper. Cook 5 minutes on each side or internal temperature reaches 170°F (80°C).
Add remaining minced garlic, artichoke hearts and olives. Heat thoroughly.
Add onion and potato mixture, thyme and tomatoes.
Garnish with Parmesan cheese and serve.
Makes 4 servings.
Recipe and photograph provided courtesy of Honeysuckle White, a division of Cargill, Incorporated. Used with permission.