Roast Glazed Turkey Breast with Roasted Peppers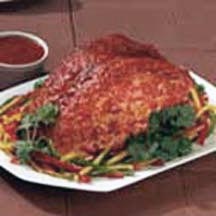 Roasted whole turkey breast glazed with a flavorful roasted red pepper purée.
Recipe Ingredients:
5 red bell peppers (about 2 1/2 pounds)
1/2 teaspoon salt
1 (10.5-ounce) jar red pepper jelly, melted - divided use
6 pounds Honeysuckle White Turkey Breast, skinned
Vegetable cooking spray as needed
1 medium red bell pepper, cut into strips
2 green bell peppers, cut into strips
2 yellow bell peppers, cut into strips
8 sprigs Fresh cilantro (optional)
Cooking Directions:
Cut 5 red bell peppers in half lengthwise; discard the seeds and membranes. Place peppers, skin side up, on a foil-lined baking sheet, and flatten with palm of hand. Broil 3-inches from heat for 12 minutes or until blackened and charred. Place in a zip-top heavy-duty plastic bag, and seal; let stand 15 minutes. Peel and discard skin.
Place roasted peppers in food processor; process until smooth. Spoon into a bowl; stir in salt and 1/2 cup melted jelly. Spoon 1 cup of pepper purée into a small bowl and set aside to serve with cooked turkey.
Place turkey breast on a rack coated with cooking spray, and place rack in a shallow roasting pan. Insert meat thermometer into turkey breast, making sure it does not touch bone.
Brush pepper purée over the turkey.
Bake in a preheated oven at 325°F (160°C) for 2 1/4 hours. Baste turkey with the pepper purée occasionally.
Toss bell pepper strips with remaining melted jelly. Place pepper strips around turkey; bake an additional 30 minutes or until meat thermometer registers 170°F (approximately 75°C).
Cover turkey loosely with aluminum foil, and let stand for 15 minutes before slicing.
Garnish with fresh cilantro, if desired. Serve with glazed bell pepper strips and 1 cup reserved pepper purée.
Makes 12 servings.
Recipe courtesy of The National Turkey Federation. Photograph provided courtesy of Honeysuckle White, a division of Cargill, Incorporated. Used with permission.