Roast Turkey Breast with Old World Pilaf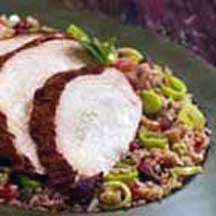 A roasted turkey breast, seasoned with warm and aromatic spices, is served with a savory pilaf made with basmati rice.
Recipe Ingredients:
Turkey:
2 tablespoons ground cumin
2 tablespoons ground coriander
2 tablespoons ground cinnamon
1 tablespoon ground ginger
1 teaspoon garlic powder
1 teaspoon salt
Vegetable oil as needed
1 (6 to 7 pound) turkey breast, fresh, bone-in
Pilaf Stuffing:
3 cups basmati rice, picked over, washed well, and soaked in lukewarm water for 15 minutes
1 chicken bouillon cube
3 tablespoons vegetable oil
1 cinnamon stick, broken into 3 or 4 pieces
4 cloves
2 bay leaves
2 medium-size onions, finely minced
3 plum tomatoes, cored and diced
1 teaspoon salt or to taste
Cooking Directions:
For Turkey: Make dust mixture by combining cumin, coriander, cinnamon, ginger, garlic powder and salt in a small bowl. Rub turkey with a small amount of oil and then rub in the dust mixture. Roast your turkey breast in a shallow roasting pan at 325°F (160°C) until the internal temperature measured with a meat thermometer reaches 170°F (80°C) in the thickest part of the breast. The turkey breast will cook more evenly if the air flow is not restricted by using a tall roasting pan. Roasting time will vary according to the size of the breast. The roasting guide is an estimate only. Use the meat thermometer to test accurately for doneness. While the turkey breast is cooking, prepare pilaf stuffing.
For Pilaf Stuffing: Drain the rice in a colander. Bring 5 cups water to a boil, add the bouillon cube, and allow it to dissolve.
Heat the oil over medium heat in a large cooking pot, add the cinnamon and cloves, and sauté for a few seconds until they become fragrant. Add the bay leaves and onion, and sauté until onion is softened. Add the drained rice, and cook over medium heat for 3 to 4 minutes more, stirring constantly. Add the bouillon-flavored hot water and tomatoes, and salt. Continue to cook, stirring occasionally and gently, until most of the liquid is absorbed, about 10 minutes. Cover, remove from heat, let stand for 15 to 20 minutes, then stir gently with a fork.
Makes 6 to 7 servings.
Recipe and photograph provided courtesy of the National Turkey Federation.