Roasted Pomegranate Turkey Breast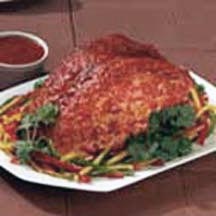 Succulent turkey breast is rubbed with a garlic-infused oil prior to roasting and served with a cinnamon-scented pomegranate wine sauce.
Recipe Ingredients:
5 to 6 pounds Honeysuckle White Breast Roast
1 tablespoon olive or vegetable oil
1 tablespoon minced garlic
Pomegranate Wine Sauce:
3/4 cup pomegranate juice
1/4 cup dry white wine
1 lemon, juiced
1/4 teaspoon ground cinnamon
1 tablespoon granulated sugar
Salt and ground black pepper, to taste
Cooking Directions:
Preheat oven to 350°F (175°C).
In a cup, mix oil and garlic. Lightly rub garlic oil over turkey. Place turkey breast in a baking pan. Drizzle any remaining oil over turkey. Bake 50 to 60 minutes or until meat thermometer reads 160°F (70°C). Allow to rest, tented with aluminum foil
For Pomegranate Wine Sauce: In a small non reactive saucepan*, mix pomegranate juice, wine, lemon juice, cinnamon and sugar. Bring to a boil over high heat. Reduce heat to low and cook 5 minutes. Season sauce with salt and pepper to taste.
Transfer roasted turkey breast to a serving platter and pierce several times. Pour sauce over turkey.
Makes 10 to 12 servings.
*Non reactive pans include clay, copper, enamel, glass, plastic, or stainless steel, and are best for use with acidic foods.
Recipe and photograph provided courtesy of Honeysuckle White, a division of Cargill, Incorporated. Used with permission.