Rosemary Garlic Turkey Tenderloin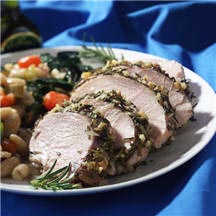 A simple entrée with an impressive presentation and complex flavors from a few simple ingredients.
Recipe Ingredients:
2 packages Honeysuckle White® Turkey Breast Tenderloins
4 tablespoons fresh rosemary, finely chopped
6 cloves garlic, minced
2 tablespoons olive oil
1 1/2 teaspoons salt
1/2 teaspoon coarse ground black pepper
Cooking Directions:
Preheat oven to 350°F (175°C).
In a bowl, mix rosemary and garlic together.
Brush tenderloins with olive oil and roll in rosemary mixture. Add salt and pepper. Press on all sides.
Place tenderloins on lightly oiled baking pan.
Bake covered for 30 minutes.
Remove cover and continue baking for 15 to 25 minutes, or until internal temperature reaches 170°F (80°C).
Makes 8 servings.
Recipe provided courtesy of Honeysuckle White, a division of Cargill, Incorporated. Used with permission.