Savory Turkey Curry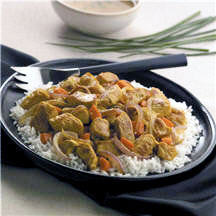 This satisfying and delicious turkey curry is low in fat, not in flavor.
Recipe Ingredients:
1 package Honeysuckle White® Turkey Breast
1/8 teaspoon salt
1/8 teaspoon coarse ground black pepper
1 teaspoon olive oil
1/2 red onion, slivered
1/2 teaspoon gingerroot, chopped
1/2 teaspoon garlic, chopped
1/2 teaspoon curry powder
2 medium carrots, diced and steamed (until almost tender)
2 tablespoons water
2 tablespoons fat-free plain yogurt
1/2 teaspoon fat-free half-and-half
Hot cooked rice for accompaniment
Cooking Directions:
Slice the turkey into bite-sized pieces.
Place a nonstick medium-sized saucepan over high heat. When hot, add the turkey; season with salt and pepper, and stir-fry about 3 minutes, or until still pink but almost done.
Add the oil and onion and stir-fry until onion is translucent.
Add the gingerroot and garlic and stir-fry about 10 seconds.
Add the curry powder; stir to coat the turkey and warm the spice, about 5 seconds.
Add the carrots and stir-fry about 2 minutes.
Add 2 tablespoons of water or broth; reduce heat to medium. Continue to cook for 2 to 4 minutes or until the carrots are to your liking.
In a small bowl, mix the yogurt well with the half and half.
Remove the turkey from the heat and stir in the yogurt mixture.
Serve at once. Alternatively, serve the yogurt on the side.
Serve with hot cooked rice.
Makes 4 servings.
Recipe provided courtesy of Honeysuckle White, a division of Cargill, Incorporated. Used with permission.