South American Style Turkey Thighs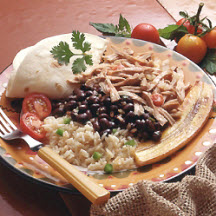 Recipe courtesy of the National Turkey Federation. A microwave recipe.
Recipe Ingredients:
1 tablespoon all-purpose flour
1 (14.5-ounce) can Italian plum tomatoes drained, juice reserved
1 cup chopped onion
1 teaspoon minced garlic
1/2 teaspoon ground cumin
1/2 teaspoon salt
2 1/2 pounds turkey thighs, skin removed
1 (15-ounce) can black beans, drained, rinsed and warmed for accompaniment
3 cups cooked brown or white long-grain rice for accompaniment
Cooking Directions:
Coarsely chop tomatoes.
In regular size oven cooking bag coated with flour, add tomatoes, onion, garlic, cumin and salt. Squeeze mixture to combine.
Add turkey, turn bag and squeeze to coat. Using plastic twist tie close bag securely and place bag in 2-quart microwave-safe dish. Cut six 1/2-inch slits in top of bag. Cook in microwave at MEDIUM-HIGH (70% power) 25 to 30 minutes or until meat thermometer reaches 180°F (82.2°C) when inserted into thighs. Turn dish halfway through cooking time.
Remove dish from microwave and allow to stand 10 to 15 minutes.
Transfer turkey and tomato mixture to bowl. Using two forks, shred turkey meat from bone; reserve turkey meat and discard bones.
To serve, place turkey in center of large platter. Alternate mounds of black beans and rice around turkey. Serve with glazed baked bananas and warm flour tortillas.
Makes 6 servings.
Recipe and photograph courtesy of the National Turkey Federation.