Spaghetti with Turkey Meatballs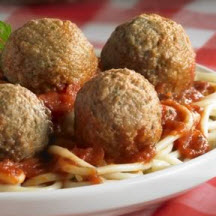 Lean, oven-roasted tasty turkey meatballs served in a delicious homemade Italian tomato sauce on a bed of spaghetti pasta.
Recipe Ingredients:
Turkey Meatballs:
1 large egg, beaten
2 tablespoons milk
1/4 cup fine dry bread crumbs
1/2 teaspoon salt
1/2 teaspoon dried Italian seasoning, crushed
1/2 teaspoon ground black pepper
1 pound ground raw turkey

Sauce:
1 large onion, chopped
1 medium green bell pepper, coarsely chopped
1 medium carrot, coarsely chopped
1 stalk celery, sliced
1 tablespoon vegetable oil
4 large ripe tomatoes, peeled and chopped (4 cups), or 2 (14.5-ounce) cans diced tomatoes
1 (6-ounce) can tomato paste
2 teaspoons dried Italian seasoning, crushed
1 teaspoon granulated sugar
1 teaspoon salt
1/2 teaspoon garlic powder
12 ounces dry spaghetti or mostaccioli
Freshly grated Parmesan cheese for accompaniment
Cooking Directions:
For Turkey Meatballs: In a medium mixing bowl combine egg, milk, bread crumbs, salt, Italian seasoning and pepper. Add ground turkey and mix well.
With wet hands, shape mixture into 24 (1-inch) meatballs. Place the meatballs in a greased 13x9x2-inch baking pan.
Bake in a 375°F (190°C) oven about 20 minutes or until turkey is no longer pink. Drain fat.
For Sauce: In a Dutch oven cook onion, green pepper, carrot and celery in hot oil until tender. Stir in fresh or undrained canned tomatoes, tomato paste, Italian seasoning, sugar, salt and garlic powder. Bring to boiling. Add meatballs; reduce heat. Cover and simmer for 30 minutes. If necessary, uncover and simmer for 10 to 15 minutes more or until sauce is desired consistency, stirring occasionally.
Meanwhile, cook the pasta according to package directions, preferably al dente (firm to the bite). Drain; keep warm.
Arrange pasta on individual plates or a large serving platter. Spoon the meatballs and sauce over pasta. Pass the Parmesan cheese to sprinkle on individual servings, if desired.
Makes 6 servings.
Recipe and photograph provided courtesy of The National Turkey Federation.