Thai Turkey Satay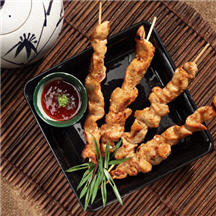 Thai seasoned, marinated turkey breast strips are threaded onto skewers and broiled or grilled.
Recipe Ingredients:
8 (6-inch) wooden skewers
1 1/4 packages Honeysuckle White® Turkey Breast Cutlets (or breast strips)
Marinade:
1/2 medium white onion, finely chopped
2 cloves garlic, minced
2 tablespoons gingerroot, grated
3 tablespoons soy sauce
2 teaspoons hot chili sauce
1 teaspoon granulated white sugar
2 tablespoons lime juice
Sweet hot chili sauce, for dipping
Cooking Directions:
Soak wooden satay skewers in cold water for 1 hour before cooking to keep them from burning while cooking.
For Marinade: Mix all ingredients together in a small bowl.
For Turkey: Cut turkey into 1-inch strips. Cut the strips into 3-inch-long pieces.
Lay strips in a non-reactive pan (glass, plastic, etc.) and pour marinade on top, mixing so the turkey is coated evenly. Cover and refrigerate for 20 minutes to 2 hours.
Thread marinated turkey pieces onto soaked sticks and place on broiler pan.
Broil for approximately 8 minutes on each side.
Serve with a small bowl of sweet hot chili sauce for dipping, available in the Asian section of the grocery store.
Makes 4 servings.
Recipe provided courtesy of Honeysuckle White, a division of Cargill, Incorporated. Used with permission.