Turkey Breast with Roasted Asparagus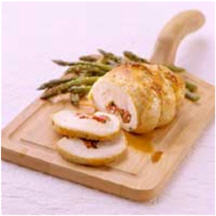 Remember this recipe when spring's first tender shoots of asparagus begin to appear at farmers' markets and in produce aisles. You'll love the perfect flavor-pairing of tarragon and Dijon mustard, and the bright, vibrant colors of the asparagus, parsley, and red peppers.
Recipe Ingredients:
1/4 cup butter or margarine, softened
2 teaspoons Dijon-style mustard
3/4 teaspoon dried tarragon, crushed
1/4 teaspoon salt
1/8 teaspoon black pepper
2 (1 1/4 to 1 1/2-pound) boneless turkey breast halves (with skin on)
1 (7-ounce) jar roasted red sweet peppers, drained and coarsely chopped
1/2 cup snipped fresh parsley
1 1/2 pounds asparagus spears, trimmed
1 tablespoon olive oil
1/4 teaspoon salt
Cooking Directions:
In a small bowl combine softened butter, Dijon mustard, tarragon, 1/4 teaspoon salt, and black pepper; set aside.
Remove skin from turkey; set skin aside. Lay one turkey breast half, boned side up, on work surface. Make 4 or 5 shallow cuts in thickest part of the breast (do not cut through). Place turkey breast between two pieces of plastic wrap. Using the flat side of a meat mallet, lightly pound turkey breast to a uniform 3/4-inch thickness. Remove plastic wrap. Repeat with the remaining turkey breast half. Dot turkey with half of the butter mixture; set the remaining mixture aside. Top turkey evenly with roasted peppers and parsley. Starting from a short side, roll up each turkey breast into a spiral. Wrap the reserved skin around each roll; tie with 100-percent cotton string. Place on a rack in a shallow roasting pan.
Melt the remaining butter mixture; brush over surface of turkey. Insert an oven-going meat thermometer into center of one of the turkey rolls. Roast in a 325°F (160°C) oven for 1 1/2 to 1 3/4 hours or until juices run clear and turkey is no longer pink (170°F / 80°C).
Meanwhile, in a large bowl toss together asparagus, oil, and 1/4 teaspoon salt. Place asparagus in the roasting pan next to turkey the last 15 to 20 minutes of roasting.
Cover turkey and asparagus with foil and let stand for 10 to 15 minutes before slicing. Serve the turkey with roasted asparagus.
Makes 10 servings.
Nutritional Information Per Serving (1/10 of recipe): calories (1/10 of recipe): 212, total fat: 9g, saturated fat: 4g, cholesterol: 92mg, sodium: 220mg, carbohydrate: 2g, fiber: 1g, protein: 28g.
Recipe and photograph provided by Better Homes and Gardens - BHG.com a member of the Home and Family Network for the best of cooking, gardening, decorating and more. © 2003 Meredith Corporation. All Rights Reserved.