Turkey Cutlets with Winter Fruit Sauce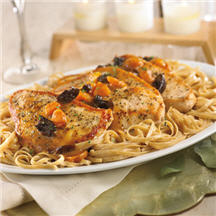 Seasoned and sautéed turkey cutlets served over a bed of whole wheat linguine topped with a cinnamon-scented fruit and cream sauce made with white wine, dried apricots and plums.
Recipe Ingredients:
1/2 cup white wine
1/2 cup low-sodium chicken broth
1/2 cup dried apricots
1/2 cup dried plums
1 cinnamon stick
1 package (about 1 1/2 pounds) Honeysuckle White® Turkey Breast Cutlets
Salt and black pepper
2 teaspoons olive or vegetable oil
1/4 cup half-and-half (light cream)
1 teaspoon cornstarch
1 (12-ounce) package whole wheat linguine, cooked
2 tablespoons chopped parsley
Cooking Directions:
In small saucepan, bring wine, broth, dried apricots, dried plums and cinnamon stick to a simmer. Remove from heat, cover and let stand at least 10 minutes.
Season turkey with salt and pepper.
In large skillet, heat oil over medium heat.
Cook turkey about 4 minutes on each side or until browned and cooked through. Remove from skillet; keep warm.
Add wine, broth and dried fruit to skillet; discard cinnamon stick. Simmer until about 1/2 cup liquid remains.
In small bowl, mix half-and-half and cornstarch. Add to skillet; simmer 1 to 2 minutes or until sauce thickens.
Place linguine on platter or individual plates; arrange turkey cutlets on top of linguine and spoon sauce and fruit over.
Sprinkle with parsley.
Makes 4 servings.
Recipe and photograph provided courtesy of Honeysuckle White, a division of Cargill, Incorporated. Used with permission.