Grilled Veal Chops with Potato-Leek Hash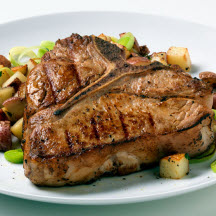 Grilled veal chops are served over a quick and easy pan-fried potato and leek hash seasoned with fresh thyme and garlic.
This recipe is an excellent source of protein, niacin, vitamin B6, vitamin B12, iron, zinc and choline; and good source of fiber and selenium.
Recipe Ingredients:
4 veal loin chops, cut 1 inch thick (about 8 ounces each)
1 to 2 tablespoons vegetable oil
1 1/2 pounds red-skinned potatoes, unpeeled, cut into 1/2-inch cubes
2 medium leeks, cut into 1/2-inch thick slices, separated into rings
1 tablespoon plus 1 teaspoon chopped fresh thyme - divided use
1 teaspoon garlic salt - divided use
1/2 teaspoon pepper
Cooking Directions:
Heat 1 tablespoon oil in large nonstick skillet over medium heat until hot. Stir in potatoes, leeks, 1 tablespoon thyme and 1/2 teaspoon garlic salt. Cover and cook 12 to 16 minutes or until potatoes and leeks are tender and begin to brown, stirring occasionally. Remove cover and continue to cook 3 to 5 minutes or until potatoes begin to crisp, stirring occasionally and adding remaining 1 tablespoon oil to prevent sticking, if needed.
Meanwhile, combine remaining 1 teaspoon thyme, 1/2 teaspoon garlic salt and pepper; press evenly onto veal chops. Place chops on grid over medium, ash-covered coals. Grill, uncovered, 15 to 17 minutes to medium (160°F | 71.1°C) doneness, turning occasionally.
Makes 4 servings.
Nutritional Information Per Serving (1/4 of recipe): 385 calories; 11 g fat (3g saturated fat; 4 g monounsaturated fat); 113 mg cholesterol; 361 mg sodium; 37 g carbohydrate; 3.0 g fiber; 33 g protein; 15.1 mg niacin; 0.5 mg vitamin B6; 1.4 mcg vitamin B12; 4.1 mg iron, 16.0 mcg selenium; 6.4 mg zinc; 146.3 mg choline.
Recipe and photograph courtesy of Cattleman's Beef Board.