Lemon-Ginger-Prune Veal Roll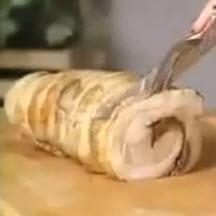 Boneless veal breast is a superb choice for a company meal, especially when stuffed with a spicy fruit filling and braised in Madeira.
Recipe Ingredients:
1 cup chopped prunes
1 tablespoon finely shredded lemon peel
1 tablespoon grated fresh gingerroot
1 (4-pound) boneless veal breast
1/2 teaspoon salt
2 teaspoons vegetable oil
2/3 cup Madeira wine
1/3 cup water
Cooking Directions:
Combine prunes, lemon peel and ginger in a small bowl. Unroll veal breast; trim excess surface fat. Sprinkle evenly with salt. Spread prune mixture evenly over surface. Roll up veal and tie securely with string.
Heat oil in Dutch oven or other oven-proof pan. Brown veal on all sides; drain if necessary.
Add wine and water to pan; cover tightly. Cook at 325°F (160°C) until tender, 2 to 2 1/2 hours. Transfer to a warm platter; set aside.
Skim fat from pan juices. Bring to a boil and simmer until reduced by half.
Slice veal roll; discard strings. Spoon sauce over each serving. Garnish with lemon wedges if desired.
Makes 8 servings.
Recipe and photograph provided courtesy of Beef Industry Council.