Marinated Veal Steaks and Vegetable Kabobs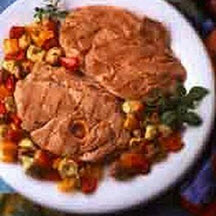 Recipe courtesy of The Beef Checkoff.
Recipe Ingredients:
Marinade:
3/4 cup Italian dressing
1/4 to 1/2 teaspoon hot pepper sauce
2 veal steaks, cut 3/4-inch thick
1 (14.5-ounce) can artichoke hearts, drained, cut in half
1/2 pound medium mushrooms
2 large red or yellow bell peppers, cut into 1-inch pieces
Cooking Directions:
In small bowl, combine marinade ingredients; reserve 1/2 cup.
Place veal steaks and remaining marinade in plastic bag, turning to coat. Close bag securely and marinate in refrigerator 2 hours or overnight.
In large bowl, combine artichoke hearts, mushrooms, bell peppers and reserved marinade; toss to coat.
Cover and refrigerate up to 2 hours. (Do not marinate vegetables overnight.)
Soak 4 (10-inch) bamboo skewers in water 10 minutes; drain.
Thread vegetables onto skewers, reserving marinade.
Remove steaks from marinade; discard marinade.
Place steaks and vegetable kabobs on rack in broiler pan so surface of meat is 3 to 4-inches from heat.
Broil 14 to 16 minutes or until veal reaches medium doneness and vegetables are tender, turning steaks once and vegetables occasionally.
Remove vegetables from skewers; return to reserved marinade.
Remove bones and trim fat from steaks. Carve veal crosswise into thin slices. Serve with vegetables.
Makes 4 servings.
Recipe and photograph courtesy of The Beef Checkoff.