Mediterranean Veal Burgers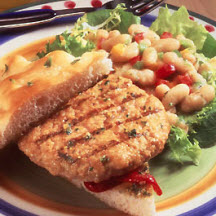 Recipe courtesy of The Beef Checkoff.
Recipe Ingredients:
1 pound ground veal
1 (8-ounce) loaf focaccia bread
1 large egg
1/2 teaspoon salt
1/2 teaspoon ground black pepper
4 round slices unpeeled eggplant (1/4-inch thick)
2 tablespoons prepared basil pesto
1/2 cup jarred roasted red peppers, rinsed, drained, cut into strips
1/3 cup prepared basil pesto
Cooking Directions:
Cut focaccia into 4 wedges; using serrated knife, cut each wedge horizontally in half. Pull out 1/4-inch soft bread crumbs from cut sides of tops of focaccia. Place in food processor, fitted with steel blade, or blender container. Cover; process into fine crumbs. Reserve 1/4 cup crumbs for burgers.
In large bowl, combine ground veal, 1/4 cup bread crumbs, egg, salt and pepper, mixing lightly but thoroughly. Shape into 4 (1/2-inch) thick patties. Brush both sides of eggplant slices with equal amounts of the 2 tablespoons pesto.
To broil: Place patties on rack in broiler pan so surface of meat is 4-inches from heat. Arrange eggplant around patties. Broil 8 to 10 minutes or until centers are no longer pink, and eggplant is tender, turning once.
Place focaccia, cut sides up, under broiler. Cook 1 to 2 minutes. Spread 1/3 cup pesto over cut sides of focaccia. Place equal amounts of eggplant and red peppers on bottoms of focaccia; top with burgers. Close sandwiches with focaccia tops.
Makes 4 servings.
To Grill: Place patties in center of grid over medium, ash-covered coals. Arrange eggplant around patties. Grill, uncovered, 10 to 12 minutes or until centers of patties are no longer pink and eggplant is tender, turning once.
Tip: Reserve remaining bread crumbs for other use; crumbs may be frozen, tightly covered, up to 3 months.
Recipe and photograph courtesy of The Beef Checkoff.