Veal Breast Mushroom Roulade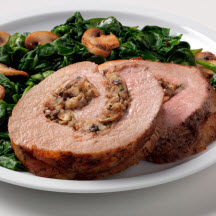 An impressive entrée perfect for a special meal. Veal breast stuffed with a fresh rosemary, garlic and mushroom filling.
This recipe is an excellent source of protein, niacin, vitamin B12, selenium and zinc; and a good source of vitamin B6.
Recipe Ingredients:
1 boneless veal breast (about 2 1/2 to 3-pounds)
1/2 teaspoon salt
1 tablespoon olive oil
1/3 cup dry Marsala wine
1/3 cup water
Filling:
1 tablespoon olive oil
4 cups chopped button and cremini mushrooms
1 tablespoon minced garlic
1 tablespoon minced fresh rosemary leaves or 1 teaspoon dried rosemary leaves
Salt and ground black pepper
Cooking Directions:
Prepare filling. Heat 1 tablespoon oil in stockpot over medium heat until hot. Add mushrooms and garlic; cook and stir 5 to 7 minutes or until mushrooms are tender and liquid has evaporated. Stir in rosemary. Season with salt and pepper, as desired. Remove from heat; cool.
Unroll veal breast; trim fat. Sprinkle evenly with 1/2 teaspoon salt. Spread filling evenly over veal, leaving 3/4-inch border. Roll up jelly-roll fashion; tie with string at 1 1/4 inch intervals.
Heat 2 teaspoons oil in same pan over medium heat until hot. Add veal; brown evenly. Pour off drippings. Add Marsala and water; bring to a boil. Reduce heat; cover tightly and simmer 1 1/2 to 1 3/4 hours or until veal is fork-tender.
Remove veal; keep warm. Skim fat from cooking liquid. Carve veal crosswise into slices. Serve with cooking liquid, if desired.
Makes 8 to 10 servings.
Tip: A boneless veal breast will yield 3 1/2 (3-ounce) cooked, trimmed servings per pound.
Nutritional Information Per Serving (1/8 of recipe): 271 calories; 13 g fat (4 g saturated fat; 7 g monounsaturated fat); 115 mg cholesterol; 279 mg sodium; 3 g carbohydrate; 0.3 g fiber; 31 g protein; 15.7 mg niacin; 0.3 mg vitamin B6; 1.5 mcg vitamin B12; 1.0 mg iron; 21.9 mcg selenium; 4.6 mg zinc; 8.2 mg choline.
Recipe and photograph courtesy of Cattleman's Beef Board.