Veal Breast with Olive Mushroom Filling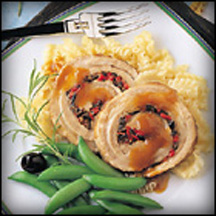 An elegant entrée of veal breast, stuffed with an olive and mushroom filling, braised in Marsala and served with a reduction sauce.
Recipe Ingredients:
Olive-Mushroom Filling:
2 teaspoons olive oil
1 cup chopped mushrooms
1 cup diced red bell pepper
2 cloves garlic, minced
1/2 cup chopped pitted ripe olives
1 tablespoon finely chopped fresh rosemary or 1 teaspoon dried rosemary
1 boneless veal breast (2 1/2 to 3 pounds)
2 teaspoons olive oil
1/3 cup dry Marsala
2 1/2 cups uncooked mini lasagna or bow tie pasta, cooked
Cooking Directions:
Heat 2 teaspoons oil in Dutch oven over medium heat until hot. Add mushrooms, bell pepper and garlic; cook and stir 5 minutes or until tender. Stir in olives and rosemary; cool.
Unroll veal breast; trim fat. Spread filling over veal, leaving 3/4-inch border. Starting at short end, roll up jelly-roll fashion; tie with string.
Heat 2 teaspoons oil in same pan over medium heat until hot. Add veal; brown evenly. Pour off drippings. Add Marsala and 1/3 cup water; bring to a boil. Reduce heat; cover tightly and simmer 1 1/2 to 1 3/4 hours or until veal is fork-tender.
Remove veal; keep warm. Skim fat. Bring cooking liquid to a boil; cook until reduced to 3/4 cup, stirring occasionally. Carve veal.
Serve over pasta with sauce.
Makes 8 servings.
Recipe and photograph provided courtesy of the Beef Industry Council.