Veal Cutlets with Lemon Mustard Sauce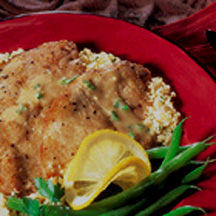 Sautéed veal cutlets served with a savory lemon mustard sauce over couscous.
Recipe Ingredients:
1 pound veal shoulder cutlets, cut 1/8 to 1/4-inch thick
3 tablespoons all-purpose flour
1 1/2 teaspoons each salt and lemon pepper
1 tablespoon olive oil
Lemon-Mustard Sauce:
3/4 cup ready-to-serve chicken broth
2 tablespoons lemon juice
1 tablespoon Dijon-style mustard
2 teaspoons all-purpose flour
1 tablespoon butter, softened
2 tablespoons sliced green onion
1 (5.8-ounce) package roasted garlic and olive oil couscous mix, prepared according to package directions
Cooking Directions:
Pound veal cutlets to 1/8-inch thickness. Combine 3 tablespoons flour, salt and lemon pepper. Lightly coat cutlets with flour mixture.
Heat oil in large nonstick skillet over medium heat until hot. Cook cutlets in batches, 2 to 4 minutes or until cooked through, turning once. Remove; keep warm.
Whisk broth, lemon juice, mustard and 2 teaspoons flour in small bowl until smooth. Add to skillet; bring to a boil, stirring until brown bits attached to skillet are dissolved. Reduce heat; simmer 2 minutes or until slightly thickened. Remove from heat; whisk in butter. Stir in green onion; spoon over cutlets.
Serve with couscous.
Makes 4 servings.
Recipe and photograph provided courtesy of the Beef Industry Council.