Veal Marsala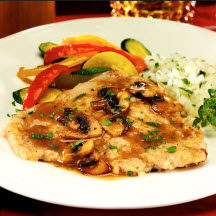 Impress your family or guests with this elegant, yet simple to prepare, dish of tender sautéed veal cutlets served with a mushroom and Marsala wine pan sauce.
This recipe is an excellent source of protein, niacin, selenium and zinc; and a good source of vitamin B6 and vitamin B12.
Recipe Ingredients:
1 pound veal cutlets, cut 1/8 to 1/4 inch thick
1/4 cup all-purpose flour
1 teaspoon salt
1/4 teaspoon ground white pepper
2 tablespoons unsalted butter
Sauce:
2 tablespoons unsalted butter
8 ounces mushrooms, thinly sliced (about 2 cups)
1 large clove garlic, minced
1/2 cup dry Marsala wine
1 tablespoon finely chopped fresh parsley
1/4 teaspoon salt
Cooking Directions:
Pound veal cutlets to 1/8-inch thickness, if necessary. Combine flour, 1 teaspoon salt and pepper in shallow dish. Lightly coat cutlets with seasoned flour.
Heat 2 tablespoons butter in a large nonstick skillet over medium heat until melted. Add mushrooms and garlic; cook and stir 5 minutes or until mushrooms are slightly browned. Remove from skillet.
Heat 1 tablespoon of butter in same skillet over medium heat until melted. Place 2 or 3 cutlets in skillet; cook 2 to 3 minutes or until veal is cooked through, turning once. Remove cutlets; keep warm. Repeat with remaining cutlets, adding remaining butter as needed.
Add Marsala to skillet; increase heat to medium-high. Cook and stir until browned bits attached to skillet are dissolved and wine is reduced by half. Stir in sautéed mushrooms, parsley and 1/4 teaspoon of salt; heat through. Spoon sauce over cutlets. Serve immediately.
Makes 4 servings.
Nutritional Information Per Serving (1/4 of recipe): Nutrition information per serving: 318 calories; 15 g fat (8 g saturated fat; 4 g monounsaturated fat); 118 mg cholesterol; 792 mg sodium; 12 g carbohydrate; 0.8 g fiber; 27 g protein; 11.2 mg niacin; 0.3 mg vitamin B6; 1.1 mcg vitamin B12; 1.6 mg iron; 18.4 mcg selenium; 3.0 mg zinc.
Recipe and photograph courtesy of Cattleman's Beef Board.