Veal Meatballs – Italian Style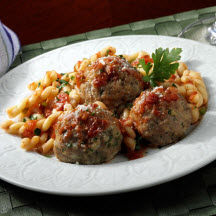 Tender veal meatballs served with a quick and easy Italian-style tomato sauce.
Recipe Ingredients:
Sauce:
2 teaspoons extra virgin olive oil
1/2 cup finely chopped onion
1/2 teaspoon crushed garlic
1 (14.5 to 16-ounce) can whole tomatoes, undrained
3 tablespoons tomato paste
1 teaspoon Italian seasoning, crushed
1/2 teaspoon salt
1/4 teaspoon granulated sugar
1/8 teaspoon freshly ground black pepper
1 tablespoon grated Parmesan cheese
1 pound ground veal
1 cup soft bread crumbs
1 large egg, slightly beaten
1/4 cup finely chopped onion
2 tablespoons finely chopped fresh parsley
1/2 teaspoon salt
1/2 teaspoon crushed garlic
1/8 teaspoon freshly ground black pepper
Freshly grated Parmesan cheese for accompaniment
Cooking Directions:
Prepare sauce. In 2 1/2-quart saucepan, heat oil over medium heat until hot. Add onion and garlic; cook and stir 2 minutes or until onion is crisp-tender. Add tomatoes, breaking up with spoon; stir in tomato paste, Italian seasoning, salt, sugar and pepper. Bring to a boil. Reduce heat; simmer, uncovered, 20 minutes or until thickened, stirring occasionally. Remove from heat; keep warm.
Meanwhile, heat oven to 350°F (175°C). Combine ground veal, bread crumbs, egg, onion, parsley, salt, garlic and pepper, mixing lightly but thoroughly. (Mixture will be moist.) Shape into 12 meatballs; arrange in greased 15 x 10-inch jelly roll pan. Bake in 350°F oven 20 minutes or until centers are no longer pink, turning once.
Stir 1 tablespoon cheese into sauce. Arrange 3 meatballs on each of 4 individual plates; top with equal amounts of sauce. Sprinkle with cheese, as desired.
Makes 4 servings.
Tip: Prepared spaghetti sauce may be substituted for sauce.
Nutritional Information Per Serving (1/4 of recipe): 386 calories; 37 g protein; 29 g carbohydrate; 13 g fat; 4 mg iron; 1,022 mg sodium; 208 mg cholesterol.
Recipe and photograph courtesy of Cattleman's Beef Board.