Veal Parmigiana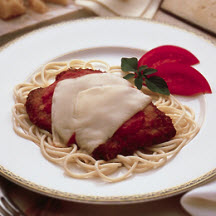 Recipe courtesy of the Wisconsin Milk Marketing Board.
Recipe Ingredients:
1 pound veal cutlets, cut 1/8 to 1/4-inch thick
1/4 cup all-purpose flour
1 teaspoon salt
1/4 teaspoon ground white pepper
2 tablespoons unsalted butter
Sauce:
2 tablespoons unsalted butter
8 ounces mushrooms, thinly sliced (about 2 cups)
1 large clove garlic, minced
1/2 cup dry Marsala wine
1 tablespoon finely chopped fresh parsley
1/4 teaspoon salt
Cooking Directions:
Pound veal cutlets to 1/8-inch thickness, if necessary. Combine flour, 1 teaspoon salt and pepper in shallow dish. Lightly coat cutlets with seasoned flour.
Heat 2 tablespoons butter in a large nonstick skillet over medium heat until melted. Add mushrooms and garlic; cook and stir 5 minutes or until mushrooms are slightly browned. Remove from skillet.
Heat 1 tablespoon of butter in same skillet over medium heat until melted. Place 2 or 3 cutlets in skillet; cook 2 to 3 minutes or until veal is cooked through, turning once. Remove cutlets; keep warm. Repeat with remaining cutlets, adding remaining butter as needed.
Add Marsala to skillet; increase heat to medium-high. Cook and stir until browned bits attached to skillet are dissolved and wine is reduced by half. Stir in sautéed mushrooms, parsley and 1/4 teaspoon of salt; heat through. Spoon sauce over cutlets. Serve immediately.
Makes 6 servings.
Recipe and photograph courtesy of the Wisconsin Milk Marketing Board.