Veal Piccata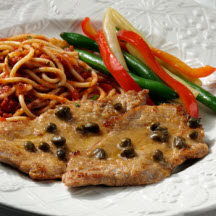 This classic Italian dish is quick and easy enough to serve family on a busy weekday, yet elegant enough to serve guests on the weekend ...or any day!
This recipe is an excellent source of protein and niacin; and a good source of vitamin B6, vitamin B12, selenium and zinc.
Recipe Ingredients:
1 pound veal leg cutlets, cut 1/8 to 1/4 inch thick
1/4 cup all-purpose flour
1/2 teaspoon salt
1/8 teaspoon sweet paprika
1/8 teaspoon ground white pepper
1 tablespoon unsalted butter
Sauce:
2/3 cup dry white wine
1 tablespoon fresh lemon juice
1 tablespoon unsalted butter; at room temperature
2 teaspoons capers
Salt
Cooking Directions:
Pound veal cutlets to 1/8-inch thickness, if necessary. Combine flour, 1/2 teaspoon salt, paprika and white pepper in shallow dish. Lightly coat cutlets with seasoned flour.
Heat 1/2 tablespoon butter in large nonstick skillet over medium heat until melted. Place 2 or 3 cutlets in skillet; cook 2 to 3 minutes or until veal is cooked through, turning once. Remove cutlets; keep warm. Repeat with 1/2 tablespoon butter and remaining cutlets.
Add wine and lemon juice to skillet; increase heat to medium-high. Cook and stir until browned bits attached to skillet are dissolved and liquid is reduced by half. Remove from heat. Stir in 1 tablespoon room temperature butter and capers. Season with salt, as desired. Spoon sauce over cutlets. Serve immediately.
Makes 4 servings.
Nutritional Information Per Serving (1/4 of recipe): 240 calories; 9 g fat (5 g saturated fat; 2 g monounsaturated fat); 103 mg cholesterol; 394 mg sodium; 7 g carbohydrate; 0.3 g fiber; 25 g protein; 9.1 mg niacin; 0.3 mg vitamin B6; 1.0 mcg vitamin B12; 1.3 mg iron; 12.9 mcg selenium; 2.7 mg zinc.
Recipe and photograph courtesy of Cattleman's Beef Board.