Veal Roast with Apricot-Thyme Chutney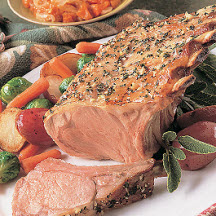 Recipe courtesy of The Beef Checkoff.
Recipe Ingredients:
1 (4 to 5-pound) veal rib roast (cap removed)
1 tablespoon finely chopped sage or 1 teaspoon rubbed sage
2 cloves garlic, crushed
1/2 teaspoon cracked black pepper
Apricot-Thyme Chutney:
1 tablespoon vegetable oil
2 medium onions, sliced
1 (6-ounce) package dried apricots, coarsely chopped
1 cup chicken broth
1 tablespoon granulated sugar
1 1/2 teaspoons cider vinegar
1/2 teaspoon dried thyme leaves
Cooking Directions:
Preheat the oven to 325°F (160°C).
In a small bowl, combine sage, garlic and pepper; press evenly onto surface of veal roast.
Place roast; rib ends down, in shallow roasting pan. Insert oven proof meat thermometer so tip is centered in the thickest part of veal, not touching bone or resting in fat. Do not add water or cover. Roast in 325° oven to desired doneness; approximately 22 to 27 minutes per pound for medium. (Do not overcook.)
For Apricot-Thyme Chutney: In heavy large nonstick skillet, heat oil over medium-low heat until hot. Add onions; cook slowly 15 to 20 minutes or until soft, stirring occasionally.
Stir in remaining chutney ingredients. Cover tightly and simmer 20 to 25 minutes, or until apricots are soft, stirring occasionally.
Remove roast when meat thermometer registers 155°F (65.5°C) for medium. Let stand 15 minutes (Temperature will continue to rise approximately 5°F to reach 160°F for medium.)
Carve roast between bones into thick slices. Serve with Apricot-Thyme Chutney.
Makes 8 servings.
Recipe and photograph courtesy of The Beef Checkoff.