Veal Saltimbocca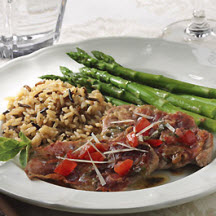 Want to impress your dinner guests? Serve this classic Italian dish and wait for the accolades.
Recipe Ingredients:
1 pound veal leg cutlets, cut 1/8 to 1/4-inch thick
1/4 teaspoon ground white pepper
1 tablespoon thinly sliced fresh sage
2 ounces thinly sliced prosciutto, cut to fit cutlets
1 1/2 tablespoons unsalted butter
1/4 cup diced seeded tomato
2 ounces shaved Parmesan cheese
Sauce:
1/3 cup dry white wine
1 tablespoon butter at room temperature
1 teaspoon minced fresh sage
Cooking Directions:
Pound veal cutlets to 1/8-inch thickness, if necessary. Sprinkle cutlets with pepper. Sprinkle sliced sage on tops of cutlets; cover with prosciutto. Cover cutlets with a piece of parchment or waxed paper; with hand, gently press prosciutto into the cutlets.
Heat 1/2 tablespoon butter in large nonstick skillet over medium heat until melted. Place 2 or 3 cutlets in skillet, prosciutto side down. Cook 2 to 3 minutes or until veal is cooked through, turning once so that prosciutto is on top. Remove cutlets; keep warm. Repeat twice to cook remaining cutlets.
Add wine to skillet; increase heat to medium-high. Cook and stir until slightly syrupy. Stir in any juices released from cutlets; remove from heat. Stir in 1 tablespoon butter and minced sage. Spoon sauce over cutlets. Top with tomato and cheese. Serve immediately.
Makes 4 servings.
Nutritional Information Per Serving (1/4 of recipe): Calories: 278; Total Fat: 14g; Saturated Fat: 8g; Cholesterol: 120mg; Total Carbs: 2g; Fiber: 0g; Protein: 31g; Sodium: 427mg.
Recipe and photograph courtesy of The Beef Checkoff.