Welcome to CooksRecipes.com, where finding a recipe is as easy as using a cookbook.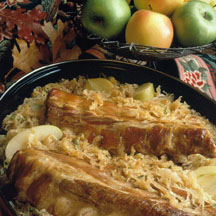 Oktoberfest Ribs - A natural flavor combination for autumn—ribs, apples, and sauerkraut. The aromas of this oven-braised dinner will bring everyone to the table pronto. Serve with sliced rye bread, buttered noodles and sliced cucumbers in a dill vinaigrette.
Butterfinger® Caramel Apples - Just a few ingredients mixed together makes this classic apple treat, perfect for autumn parties and after-school snacking.