Best One-Bowl Chocolate Cake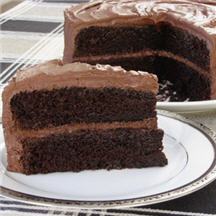 This homemade chocolate cake recipe is almost as easy as using a cake mix, but its taste and texture is so much better! Come on, you know even with a cake mix you have to crack a few eggs and measure out the oil and water.
Recipe Ingredients:
1 3/4 cups all-purpose flour
3/4 cup unsweetened cocoa powder
2 cups granulated sugar
1 1/2 teaspoons baking powder
1 1/2 teaspoons baking soda
1 teaspoon kosher or sea salt
1 cup milk
1/2 cup vegetable oil
2 large eggs
2 teaspoons vanilla extract
1 cup boiling water
Cooking Directions:
Preheat oven to 350°F (175°C)*. Grease and lightly flour 2 (9 x 1 1/2-inch) round pans, or a 13x9x2-inch baking pan, or line approximately 30 muffin cups with paper baking cups. Set aside.
Place all ingredients, except for the 1 cup boiling water, in a large mixing bowl and beat on slow just until ingredients are wet, increase speed to medium-high and beat for 2 minutes. Stir in the 1 cup boiling water, mixing well (batter will be thin). Pour batter into prepared pan(s).
Bake the 9-inch round cakes for 30 to 35 minutes, or until tested done**.
Bake a 13x9x2-inch cake for 35 to 40 minutes, or until tested done.
Bake cupcakes for 22 minutes, or until tested done.
Cool cake or cupcakes on a wire rack. (Cool the 9-inch cakes on wire racks for 10 to 15 minutes, then remove from pans and cool completely on wire racks.)
When cake is completely cool, frost as desired. (Cake in photograph is frosted with One-Pan Chocolate Frosting.)
Makes 12 servings of cake or about 30 cupcakes.
*If using a dark baking pan(s) or glass baking dish, reduce oven temperature to 325°F (160°C).
**To Test Cake: A cake (or cupcakes) is done when a wooden pick inserted near center of cake comes out clean, or cake springs back when touched lightly in the center.
Nutritional Information Per Serving (1/12 of recipe): 312.7 calories; 30% calories from fat; 11.2g total fat; 36.9mg cholesterol; 396.9mg sodium; 144.9mg potassium; 51.4g carbohydrates; 2.3g fiber; 34.6g sugar; 49.1g net carbs; 4.7g protein.
Recipe and photograph by Hope Cantil; copyright © 1999; property of CooksRecipes.com. See Terms of Use.