Caramel Mountain Candy Squares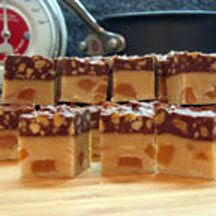 If you love milk chocolate, caramel and roasted, salted peanuts, then you will LOVE these candy squares! I created this recipe based on another of my favorite candy recipes, Cherry Mountain Candy Squares, and knew I had a winner at first bite.
Recipe Ingredients:
2 cups granulated sugar
2/3 cup evaporated milk
1/2 cup butter
2 cups miniature marshmallows
1/4 teaspoon kosher or sea salt
1 (11.5-ounce) package premium white chocolate chips
1 teaspoon vanilla extract
1 (11-ounce) package Kraft brand soft caramel bits
1 (11.5-ounce) package milk chocolate chips
3/4 cup (6 ounces) peanut butter, creamy or crunchy
1 1/4 cups salted, dry-roasted peanuts, coarsely crushed
1 tablespoon butter
Cooking Directions:
Line a 13x9x2-inch pan with aluminum foil and lightly grease with butter; set aside.
In large saucepan combine sugar, milk, 1/2 cup butter, marshmallows and salt. Bring to a full rolling boil over medium heat and cook for 5 minutes, stirring constantly. Remove from heat.
Add white chocolate chips and vanilla extract, stirring until chips are melted and mixture is smooth. Quickly add the caramel bits and stir just until caramels begin to soften (you want the bits to remain intact, not melt into the mixture), then quickly pour into prepared pan and spread evenly. Set aside.
In 4-cup measuring glass, melt milk chocolate chips in microwave oven on HIGH for 30 seconds, stir and microwave an additional 30 seconds; stir until melted. (If necessary, microwave an additional 15 to 30 seconds, but be very careful, as chocolate burns easily.) Stir in peanut butter, coarsely crushed peanuts and 1 tablespoon butter, mixing well. Spread chocolate mixture evenly over the white chocolate/caramel mixture.
Allow to sit at room temperature until completely set and firm (or after two hours, place in refrigerator to speed up the hardening process).
Lift candy from pan by foil edges and place on a cutting board. Cut into 1-inch squares. Store in cool place.
Makes 117 (1-inch) squares.
Tips:
I use (and prefer) NESTLÉ® TOLL HOUSE® Premier White Morsels because they melt far better than another popular brand of white chocolate chips that I've tried, and they taste better.

If you cannot find Kraft Soft Caramel Bits, substitute with 11-ounces of their regular soft caramels that have been cut into bits by first quartering the squares and then cutting the quarters in half with a pair of kitchen scissors (as was done for the batch in the photograph).

I use natural-style peanut butter, however regular peanut butter works just as well.

To coarsely crush peanuts, place them in a large zipper-style bag, removing as much air as possible, seal, and then use a rolling pin or kitchen mallet to crush.
Nutritional Information Per Serving (1 square): 86.5 calories; 47% calories from fat; 4.9g total fat; 2.9mg cholesterol; 47.4mg sodium; 59.1mg potassium; 10.7g carbohydrates; 0.7g fiber; 5.9g sugar; 10.0g net carbs; 1.5g protein.
Recipe and photograph by Hope Cantil; copyright © 1999; property of CooksRecipes.com. See Terms of Use.