Slow Cooker Hawaiian-Style Ribs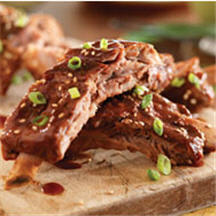 These incredibly delicious, fall-off-the-bone-tender, Hawaiian-style ribs can be enjoyed anytime of the year, rain or shine, thanks to the convenient method of cooking them in a slow-cooker.
Serve the ribs "Hawaiian plate lunch style", with a scoop of white rice, macaroni salad or slaw on the side—a few wedges of fresh pineapple would add the perfect finishing touch. For the slaw, try one of our favorite recipes, Chinese Cabbage Salad.
Recipe Ingredients:
2 cups hoisin sauce
1 cup pineapple juice
1 tablespoon grated fresh ginger
3 tablespoons sesame oil
2 racks pork back ribs, (2 1/2 to 3 pounds each), cut into 3 or 4-rib sections
Kosher or sea salt and freshly ground black pepper to taste
3 green onions, thinly sliced (optional)
1 1/2 teaspoons toasted sesame seeds (optional)
Cooking Directions:
In a medium bowl, combine the hoisin sauce, pineapple juice, ginger, and sesame oil.
Arrange the ribs in a slow cooker, season with salt and pepper, and pour half of the sauce mixture over the ribs. Cover and cook on LOW* for 5 to 6 hours (or on HIGH for 3 1/2 to 4 hours), until the ribs are very tender. Set the remaining sauce aside in the refrigerator.
About 1/2 hour before the ribs are done, remove the sauce from the refrigerator, to bring it to room temperature.
Arrange the ribs on plates or a platter and brush both sides with some of the remaining sauce. Sprinkle with the green onions and sesame seeds, if using. Serve the remaining sauce at the table.
Makes 6 servings.
*Cooking these ribs on LOW is the best method, too fast you will end up with an expensive batch of "pulled pork".
Recipe and photograph provided courtesy of National Pork Board.