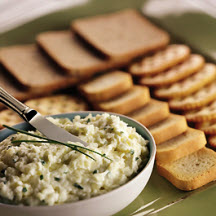 A semisoft cheese, brick cheese blends nicely in this creamy appetizer spread. Serve with little cocktail breads or crackers.
Creamy Brick Spread
1 (8-ounce) package cream cheese, at room temperature
1/4 cup milk
2 cups (8 ounces) shredded brick cheese (or substitute with cheddar cheese)
1 tablespoon chopped fresh chives
2 tablespoons minced onion
1/2 teaspoon hot pepper sauce
Rye or pumpernickel bread or crackers, for serving
In a mixer bowl, beat together the cream cheese and milk until fluffy. Add the remaining ingredients; mix well. Serve with bread or crackers.
Makes 8 to 12 servings.
Recipe and photograph provided courtesy of Wisconsin Milk Marketing Board, Inc.