Recipes for Ground Meats & Sausages
Looking for new ways to serve ground beef? You'll find some great ideas here.
Select and explore our ground meat and sausage recipe collections below the featured recipes: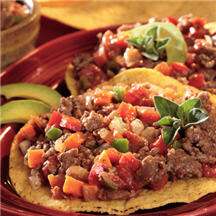 Recipe:
Picadillo for Tacos
This tasty Latino-style ground meat and veggie mixture makes a hearty filling for tacos, as well as for burritos and tamales.
Ground Beef Recipes:
Ground Chicken Recipes:
Ground Lamb Recipes:
Ground Pork Recipes:
Ground Turkey Recipes:
Ground Veal Recipes:
Recipes by Type:
Specialty Recipes:
World Cuisine Recipes: