Recipes for Pies & Pie Crusts
For the love of all things pie — and a tasty tart, too!
Recipe:
Libby's® Homemade Pumpkin Pie
The number one traditional dessert served on Thanksgiving Day has to be pumpkin pie, and this is the recipe that keeps the annual tradition going strong.
Recipe:
Apple Cranberry Streusel Pie
Your family will love this all-American dessert with apples, cranberries and a crumbly streusel topping.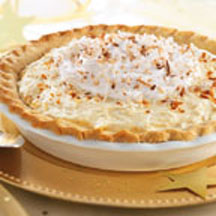 Recipe:
Toasted Coconut Custard Pie
The awesome flavor of toasted coconut makes this easy-to-make custard pie a real winner in the taste category.