Recipes for Pies & Pie Crusts
For the love of all things pie — and a tasty tart, too!
Select and explore our pie and pie crust recipe collections below the featured recipes: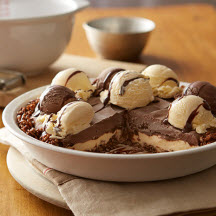 Recipe:
Crispy Chocolate Ice Cream Mud Pie
So easy and so good! A crispy chocolate crust is filled with luscious layers of vanilla and chocolate ice cream and ribbons of chocolate syrup.
Recipe:
Perfect Match Blueberry Lemon Pie
If you like blueberry pie, you'll love this twist on the summer classic...and you don't have to wait until summer to enjoy it! From the kitchen of Merna Hanson of Juniata, NE.
Recipe:
Key Lime Pie
This version of key lime pie will make you feel like you are in the sunshine of the Florida Keys!
Recipes by Type:
Pie Crust Recipes:
Specialty Recipes: