Recipes for Sauces & Condiments
A sauce is the crowning glory of any dish. From the basic "five mother" sauces, there are literally hundreds of variations of sauces that are used to dress, complement, enhance and bring out the flavor of the food it is served with.
Select and explore our sauce and condiment recipe collections below the featured recipes: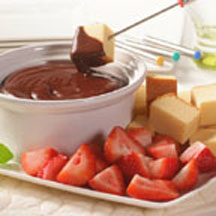 Recipe:
Quick Chocolate Fudge Sauce
Good and easy! Evaporated milk, semi-sweet chocolate chips and a little vanilla make a creamy chocolate sauce you'll have trouble holding back on.
Recipe:
Marjoram Shallot Butter
Serve this herb-flecked butter on everything from mashed potatoes to dinner rolls. It's also wonderful for rubbing under the skin of turkey and chicken.