Vegetarian Recipes
Looking for vegetarian entrées and dishes? You'll find some great ideas here.
Select and explore our vegetarian recipe collections below the featured recipes:
Recipe:
Mushroom Wellington
Looking for a festive vegetarian dish for the holidays? Look no further than this delicious recipe courtesy of the Mushroom Council.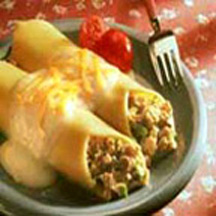 Recipe:
Tofu Manicotti
Tofu, low-fat cheese, and fat-free milk help make this Italian favorite low in fat and low in calories.
Vegetarian Recipes by Cooking Method and Type:
Grilled Dishes & Entrées
Oven-Baked Dishes & Casseroles
Pasta, Rice & Whole Grain Dishes
Sandwiches & Veggie Burgers
Savory Pies, Quiches & Tarts
Stovetop-Made Dishes & Entrées
Specialty Vegetarian Recipes:
World Cuisine Vegetarian Recipes:
Asian, Middle Eastern & North African
Italian & Mediterranean
Mexican & Southwestern