Vegetarian Recipes
Looking for vegetarian entrées and dishes? You'll find some great ideas here.
Select and explore our vegetarian recipe collections below the featured recipes:
Recipe:
Veggie Burgers with Pistachios
Pistachios are little powerhouses of nutrition! Try these burgers as a healthy and tasty alternative to the traditional hamburger.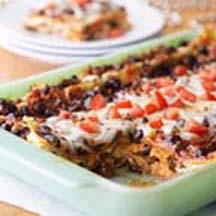 Black Bean Lasagna
Here's a crowd pleaser — serve with tortilla chips, a salad and your favorite family beverage.
Recipes by Cooking Method and Type:
Specialty Recipes:
World Cuisine Recipes: