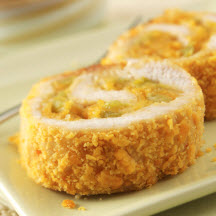 Spicy Stuffed Turkey Rolls - Festive turkey tenderloin rolls filled with a tasty mixture of crushed cheese-flavored crackers, mild green chiles and Jack cheese, with a crispy coating.
Oven-Fried Turkey Drumsticks - Economical, hefty-sized turkey drumsticks are breaded in a seasoned flour and cornmeal mixture and baked until crispy.
Herb Roasted Turkey with Citrus Glaze - Seasoned with a mixture of fresh herbs and then brushed with a citrus glaze consisting of fresh lemon and lime juice sweetened with brown sugar during the last 30 minutes of roasting time, makes a very sophisticated and tasty bird!