Recipes for Soups & Stews
Oh the culinary wonders of versatile soup! It's the first course, the "meal-in-a-bowl", or a cool, refreshing spoonable dessert.
Select and explore our soup and stew recipe collections below the featured recipes: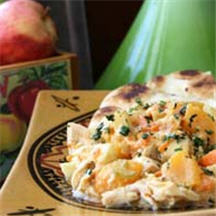 Recipe:
Apple Mulligatawny
An Indian specialty, this well-spiced mulligatawny is awash with flavors and colors and piquant curry paste, crunchy, tart Granny Smith apples, and smooth coconut milk.
Recipe:
Hearty Beef Stew
This hearty stew will warm chilled bones on a blustery winter day. Serve up steaming bowls of this nutritious and satisfying combination to anyone looking for a hearty meal.
Recipes by Ingredient:
World Cuisine Recipes:
Specialty Recipes:
Recipes by Meat & Seafood:
Recipes by Type: