Recipes for Pork
Looking for new ways to serve pork, ham or bacon? You'll find hundreds of delicious ideas here.
Recipe:
Company's Coming Pork Roast
Your grandmother probably made a roast like this, it's a timeless favorite your family will appreciate.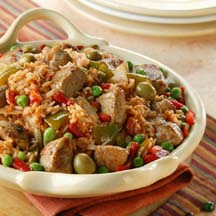 Recipe:
Pork Valenciana
A simplified version of the classic Spanish one-dish-meal paella. Easy enough for everyday, but impressive enough for company.