Recipes for Candy, Fudge & Sweet Confections
Irresistible homemade candies, fudges and sweet confections to delight the sweet tooth!
Select and explore our candy and fudge recipe collections below the featured recipes: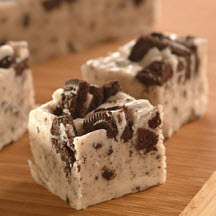 Recipe:
Cookies & Cream Fudge
If you like cookies and cream, you'll have to try this rich, decadent fudge made with cream-filled chocolate sandwich cookies, white morsels and marshmallow crème.
Recipe:
Nutty Bonbon Pops
Just one of these sweet little treats makes a nice gift when wrapped individually in a cellophane bag. If you're bringing them to a party as a hostess gift, arrange them on a plate.
General Candy Recipes:
Specialty Recipes: