Swordfish with Spicy Almond Crust - Swordfish fillets (or other firm-fleshed white fish) are topped with a paste mixture of fresh flat-leaf parsley, toasted almonds, lemon juice, orange peel, garlic and ground cumin and baked.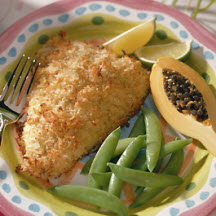 Coconut Lime Fillets - High heat roasting keeps this coconut-infused red snapper moist and flavorful. Dijon mustard and lime juice combine to make a piquant sauce.
Citrus Shrimp with Angel Hair Pasta - This delectable shrimp dish, with its intense citrus-flavor and just a hint of spice typical of Gulf coast cuisine, is quick and easy to prepare, but tastes like you spent all day in the kitchen!