Recipes for Dessert
Ah, dessert! It's the grand finale and a perfectly sweet way to end a meal!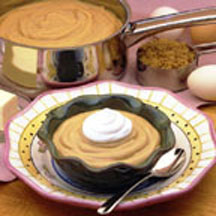 Recipe:
Old Fashioned Butterscotch Pudding
Brown sugar and butter give this pudding its distinctive flavor. It's so simple to make you won't go back to the boxed version again!
Recipe:
Pumpkin Apple Dessert Pizza
Invite the kids in your family to put this dessert pizza together. Filled with cream cheese, apple, pumpkin and chopped nuts this pizza extravaganza will delight the whole crowd!
Apple Desserts
Assorted Fruit Desserts
Banana Desserts
Berry Desserts
Blueberry Desserts
Butterscotch & Caramel Desserts
Cheesecake Recipes
Cherry Desserts
Chocolate Desserts
Citrus Fruit Desserts
Coconut Desserts
Coffee-Flavored Desserts
Cranberry Desserts
Date, Fig & Raisin Desserts
Extra Special Desserts
Frozen & Ice Cream Desserts
Fruit Medley Desserts
Grilled Desserts
Kiwifruit Desserts
Melon Desserts
Mint Desserts
Mousse & Pudding Desserts
Nut Desserts
Parfait Desserts
Peanut Butter Desserts
Pear Desserts
Pumpkin & Sweet Potato Desserts
Rhubarb Desserts
Rice Puddings
Strawberry Desserts
Trifle Desserts
Tropical Fruit Desserts