Dessert Recipes
Ah, dessert! It's the grand finale and a perfectly sweet way to end a meal!
A collection of recipes for a large variety of delicious homemade desserts. Find hundreds of recipes for all types and flavors of desserts like cheesecakes, chocolate desserts, fruit desserts, ice cream and frozen desserts, custards and puddings, parfaits, tarts, tartlets and trifles. This recipe collection also includes two special categories listing only strawberry desserts and rice custard and pudding desserts.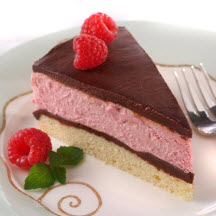 Chocolate Rhapsody
This dessert will be music to your taste buds. A thin layer of chocolate separates luscious raspberry mousse and yellow sponge cake — a second layer on top finishes this masterpiece.
Strawberry Tiramisu
The translation for tiramisu is "carry me up". After just one bite of this delightful strawberry version, you'll understand why many assume the unspoken words must surely be "to heaven".
Dessert Recipe Collections:
Dessert Recipes by Type & Flavor:
Specialty Dessert Recipes: