Recipes for Dessert
Ah, dessert! It's the grand finale and a perfectly sweet way to end a meal!
Select and explore our dessert recipe collections below the featured recipes:
Recipe:
Dark Chocolate & Mint Ice Cream Torte
A refreshing dessert torte featuring layers of cooling mint chocolate chip ice cream, chocolate crumb crust and a luscious dark chocolate ganache center.
Recipe:
Mascarpone Lemon Icebox Parfaits
This delicious dessert with its layers of lemony mascarpone cream, crushed gingersnaps and sliced strawberries is sure to please.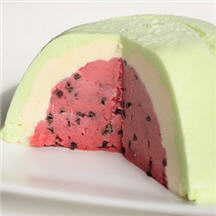 Recipe:
Watermelon Ice Cream Bombe
A refreshing blend of fruit sorbet, vanilla ice cream, and mini chocolate morsels, this watermelon-inspired dessert makes a wonderful finale to any meal.
Dessert Recipes by Ingredient & Flavor:
Dessert Recipes by Type:
Specialty Recipes:
World Cuisine Recipes: