Recipes for Appetizers & Snacks
Perfect for party-time snacking and anytime noshing!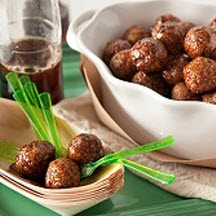 Recipe:
Smokey Cola Glazed Meatballs
Try this super simple turkey meatball recipe - perfect for serving at your game day party...or any festive gathering.
Recipe:
Brie and Bacon in Pastry
Both the height of elegance and simplicity, this rich and savory appetizer is perfect for a small crowd.
Brie Cheese Appetizers
Bruschetta & Crostini Recipes
Canapés & Hors d'oeuvres
Cheese Balls & Logs
Chips, Puffs, Fritters & More
Chicken Wings & More
Deviled Eggs
Dips & Spreads
Fondue Recipes
Meatball Appetizers
Party Sandwiches
Pinwheels & Roll-Ups
Quiche & Tart Appetizers
Sweet & Salty Snacks