Salad & Salad Dressing Recipes
Ah, the versatile salad! It can play the role of an elegant first course, a colorful side dish, a cool and satisfying entrée, or a light and refreshing fruit or gelatin dessert!
Find hundreds of recipes for a large variety of delicious salads, including entrée salads, vegetable salads, fruit salads, festive gelatin salad, potato salads, whole grain salads, macaroni salads and pasta salads. This collection also offers a wonderful selection of recipes for homemade salad dressings and vinaigrettes, including ranch dressing, blue cheese dressing and balsamic vinaigrette.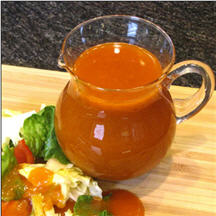 Creamy French Dressing
This tomato-based, creamy French dressing has a superb taste that the whole family will enjoy.
Salad & Salad Dressing Recipe Collections:
General Salad Recipes:
Salad Dressing Recipes: