Recipes for Salads & Salad Dressings
Ah, the versatile salad! It can play the role of an elegant first course, a colorful side dish, a cool and satisfying entrée, or a light and refreshing fruit or gelatin dessert!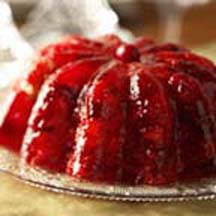 Recipe:
Cranberry Sauce Salad
This bright and refreshing salad, made with canned whole cranberry sauce, crushed pineapple, bits of crisp celery and raspberry-flavored gelatin, pairs perfectly with roast turkey.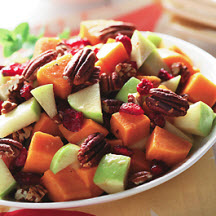 Recipe:
Super Sweet Potato Salad
Sweet potatoes, apples, dried cranberries and toasted pecans tossed in an orange-maple dressing makes this salad perfect for fall and winter holidays.
Recipe:
Italian Spinach & Mushroom Salad
A fresh spinach salad of tender, sliced baby bella mushrooms, garbanzo beans, crisp-cooked bacon and whipped cream cheese tossed with Italian dressing.