Recipes for Salads & Salad Dressings
Ah, the versatile salad! It can play the role of an elegant first course, a colorful side dish, a cool and satisfying entrée, or a light and refreshing fruit or gelatin dessert!
Select and explore our salad and salad dressing recipe collections below the featured recipes: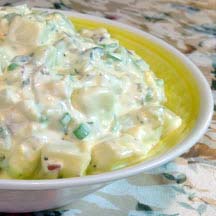 Recipe:
Picnic Potato Salad
This potato salad is perfect to take to a picnic, a potluck, a backyard barbecue—or to your dining room table!
Recipe:
Home Garden Tomato Caprese
Robert Irvine, Food Network celebrity chef, uses only the freshest and most colorful seasonal ingredients when preparing his recipe for the classic Italian Caprese salad.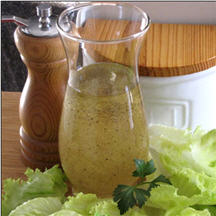 Recipe:
Asian-Style Vinaigrette
Homemade salad dressing is quick, easy to make and tastes so much better! Seasoned rice wine vinegar gives this sweet and tangy vinaigrette its oriental flavor.
Recipes by Type:
Entrée Salad Recipes:
Specialty Recipes:
World Cuisine Recipes: